Hitting the Boxing Ring on High Heels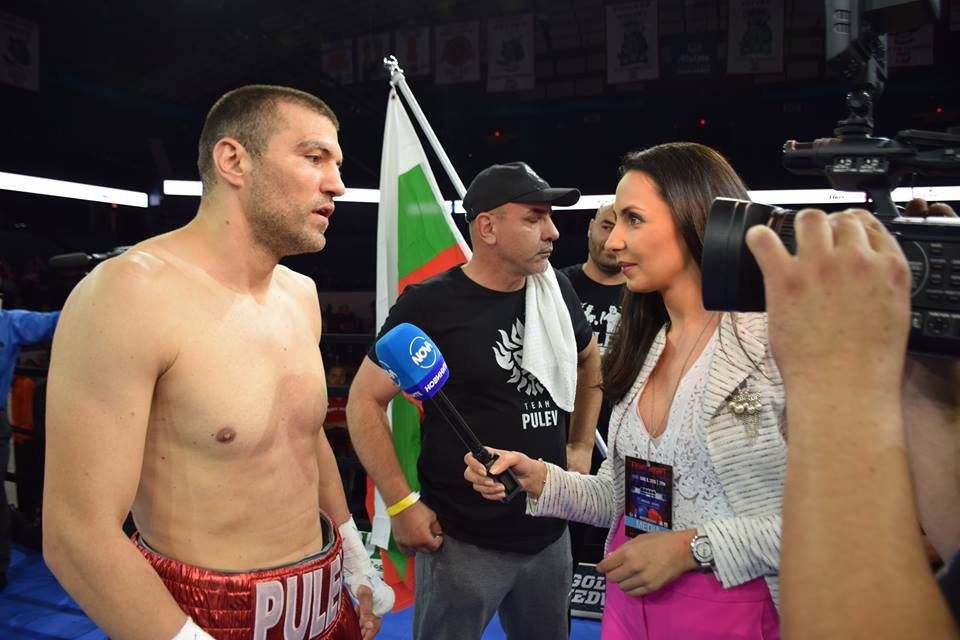 Boxing – the sport built on blood, sweat, and tears… but also elevated emotions and good looks. Because after all, a good boxing match is a show and like every show it needs sparkle. I find it very sexy to walk on the ring with high heels. Lucky for me I did it twice for the past six months – both times to cover wins for the Bulgarian Boxer Tervel Pulev in Chicago.
My first time entering a boxing ring on heels was this spring when I was invited to speak during Pulev`s debut in the United States. The task was not easy because I had to talk in my native Bulgarian and then translate in English which could make you lose track of your thoughts, especially with all the excitement before the fight begins. But who cares I was on the ring along with an Olympic bronze medalist and his brother – the European Super Heavyweight champion Kubrat Pulev.  I was the MC of the fight for the Bulgarian community, feeding them with info and trying to stir up the crowd… I was so, but I did my best – I wore my favorite Christian Louboutins, and I smiled widely. Even on the thin and tall heels, I could feel the floor vibration, and it felt great combined with the roaring of the crowd. You have to give it to Bulgarians – we know how to energize any place, and we do support each other unconditionally.
I witnessed the same support and love from the Bulgarian public on Friday during Tervel Pulev`s second fight in Chicago. The match was in All-State Arena in Rosemont, and more than 60 % of the people inside were Bulgarians. Pulev did not disappoint them – winning his 11th consecutive fight. He won graciously with a knockout over the American Armando Ancona. I should now because I was just a few feet away! It took Tervel only 2 minutes and 6 seconds to win the fight, less than the time he spent on the ring afterward when I interviewed him for the Bulgarian National Television- NOVA on the ring. I could hardly stay in one position holding the mic because of the trembling floor underneath my feet. But it felt great to be there at this very moment with so many excited and happy people in the Arena. It felt sexy to be the only female on the ring wearing strappy heels and carrying a microphone. (not to mention the hot pink pants from Victoria Beckham`s 2017 collection) 
#Bulgarian #TervelPulev in fight with Armando Ancona in All State Arena in Chicago. The fight ended after 2 min & 6 seconds after the Bulgarian strike a knockput 🇧🇬 pic.twitter.com/wGTJw3dZjP

— Galina Petrova (@Galyamodel) June 9, 2018
Watching the fight so closely and talking to the public afterward made me love that sport even more. There is something extraordinary about boxing, maybe because you look your opponent and straight in the face. It takes not only braveness, toughness and concentration but avidity. Eagerness to attack, to protect and to prove oneself. I can only imagine how it feels to be a winner on that ring, but let me tell you, It felt great to feel confident walking on it on high heels 🙂 
P. S. – I am blessed with my job because of the zillion opportunities to witness history and be part of it!
[visual_portfolio id="1541″]